Hello!
Today I'd like to share a layout created using the
May Kraftboard challenge over at Kraft+
.
This month you are provided with an inspiring mood board - a "kraft board", which along with your imagination, the only other thing you need to use is a kraft background.
Here is my interpretation of the kraft board…
I have scrapped all my ultrasound pictures now. Here I have cut them and mounted them onto card to view on this interactive layout, rather than keeping the photos on their long strip, like have with a previous layout. Something different! I have a fair bit of hidden journalling on this one, too. :)
I have punched, hand cut and die cut a variety of circular shapes and arranged them in a casual horizontal pattern. This made a lovely background which really suited the subject matter, I think. Each circle special in it's own way, whether embellished or not! I've included a blue '
Beautiful Butterfly
' on my layout (you can see it in the above close-up). These are available in packs of 10 in a variety of pretty colours from my store,
byChantalVandenberg
…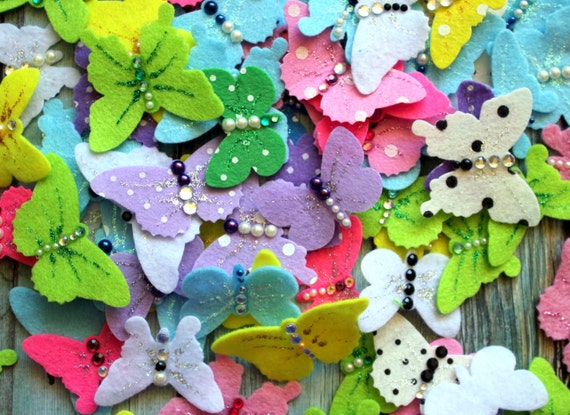 and also from my
store
, I have two blue '
Denim Hearts
' on there too (see below)…
They can be used on any layout and I reckon $3 for a pack of 20 is a real bargain. :)
The black and white photos really stand out against this colour palette and the kraft background really compliments it all so well. It may be hard to pick up in the above photo, but I've used pearl pen on the title block - a variety of different sized dots.
Here is the kraft board that I took inspiration from…
I was inspired by;
The beads (I used a real bead necklace to frame my group of photos)
The denim jeans (use of Denim Hearts and denim patterned paper by OA)
The colours used in all the photographs has been incorporated as the colour palette for my layout
The bunch of flowers (inspired the grouping of embellishments within the circles)
The two white lamps (inspired the white journalling card on either side of the layout - bottom and top left)
The bracelet's metal colour (inspired the colour of mist used and the fact that I made the mist drip down was mimicking the dangling beads on the bracelet)
I am so glad I got to play along with Kraft+ this month. :D
Cheers,
Chantal