Hi everyone!
I've played along with
Once Upon A… Sketch
this month. The journalling theme is "My Happy Place" so I picked one of my fave photos of us at Warner Bros Movie World - meeting Bugs and his Mrs!
Movie World without a doubt is my most favourite place to visit. I love the rides, the atmosphere and everything!
So here's my bright and
happy
layout… :)
I've used some of my handmade items from my
store
here, such as the
Fuzzy Felt Clouds
around the border of my photo to make a happy and funky photo frame. These li'l cuties come in two sizes in a pack of 12, and I've also popped a Rainbow from the
Rainbow Pops & Rainbows
pack.
I have used
2Crafty
's
Happy - Loopy Font
for part of my title. I have painted the chipboard with black acrylic paint and run over the top with black glitter glue - which is the same treatment that I've given the large outer
Sun
. :)
I left one film strip "empty" on the left and right sides, and I've filled the other three film strips with tiny pieces of patterned paper. :)
I've journalled in two sections on my layout - the black journalling's the "facts" and the green on green journalling is my explanation and elaboration about these facts! :)
This is the sketch my layout is based on. :)
And before I go, here is a new product in
store
…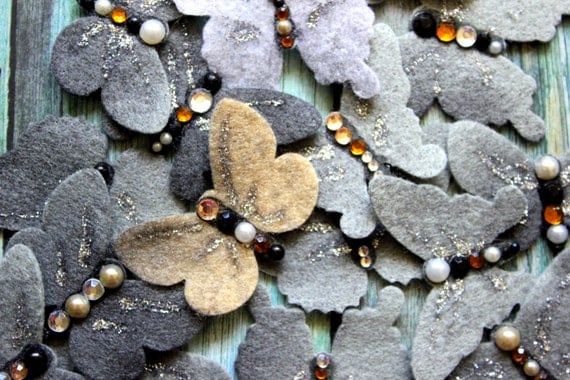 Mottled Moths
! The come in a pack of 10. No two are the same and they are made from lovely and soft wool-blend felt. :)
I'm uploading new products all the time, as well as re-stocking your favourites, so there should be something different each time you visit.
Have a happy day!! ;D
Cheers,
Chantal
xo